MetroLink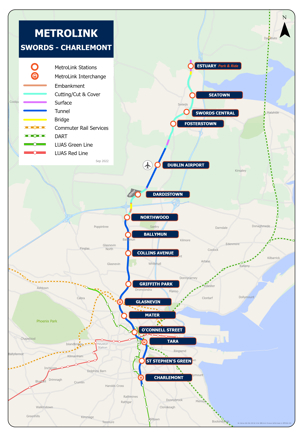 MetroLink is a transformative piece of new public transport infrastructure, the first of its kind in Ireland. It will comprise a high-capacity, high-frequency, modern and efficient metro railway, with 16 new stations running from Swords to Charlemont. The alignment will link Dublin Airport, Irish Rail, DART, Dublin Bus and Luas services and create a fully integrated public transport network for the Greater Dublin Area (GDA). The MetroLink alignment is shown in adjacent map.
As well as linking major transport hubs, MetroLink will connect key destinations including Ballymun, the Mater Hospital, the Rotunda Hospital, Dublin City University (DCU) and Trinity College Dublin (TCD). Much of the 18.8km route will run underground, an exciting innovation for Irish public transport.
When operations commence there will be trains every three minutes during peak periods. This can rise to a service every 90/100 seconds by 2060 if required. The system will be capable of carrying up to 20,000 passengers per hour in each direction. For comparison, current Luas Green Line services can carry circa 9,000 passengers per direction per hour.
When completed passengers will be able travel from Swords to Dublin city centre in approximately 25 minutes and it is estimated that MetroLink will carry up to 53 million passengers annually. MetroLink differs from other rail services currently available in Ireland (DART, InterCity and Luas) in that it will:
Offer higher frequency services;
Carry more people over shorter distances;
Be fully segregated from all other road users (interference with road traffic or pedestrians); and
Be fully automated (Driverless train service)
Dublin MetroLink Video - July 2022