Emerging Preferred Route 2018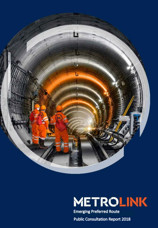 A public consultation took place from 22 March to 11 May 2018 along the full  length of the route, including public events from Swords to Leopardstown. Almost 8,000 submissions were received via phone, email, post and comment cards.
You can read the full consultation report detailing the feedback received on the Emerging Preferred Route here.
Documentation Published 
Alignment Options Study (Study 1)
Green Line Tie-in Study (Study 2)
Green Line Metro Upgrade (Study 3)
Cost Benefit Analysis March 2018
Metro Tunnel Configuration Study
Emerging Preferred Route  Public Consultation Document
Emerging Preferred Route Public Consultation Feedback Report
Site Archive
You can also visit the Emerging Preferred Route 2018 site archive here.